Senior Home Care – Benefits of Audiobooks For Seniors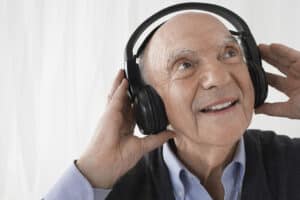 Audiobooks are an excellent way for people of all ages to learn and grow, but they are especially helpful for adults with vision issues. With the help of loved ones and senior home care aides, seniors can enjoy the benefits with ease.
What Do Seniors Gain From Access to Audiobooks?
Accessibility: Older people who have trouble seeing can find reading standard printed materials hard or even impossible. Audiobooks make it easy for them to enjoy reading, learn new things, and keep their minds active without seeing the words.
Independence: Audiobooks let seniors read books and other written material without relying on someone else to read aloud. This freedom can help them continue to care for themselves by engaging in an activity they enjoy.
Engagement and Mental Stimulation: Listening to audiobooks keeps the mind active, stimulates cognitive processes, and can help stop cognitive decline. Through storytelling, seniors can try new ideas, learn about other cultures, and use their minds.
Multitasking: Audiobooks make it easier for seniors to do more than one thing at a time. They can listen while cooking, relaxing, or preparing for their day.
Reduced Eye Strain: Reading can cause the eyes to hurt and feel tired. They are also a good choice for seniors who need help seeing because they don't require them to stare at pages, screens, or small fonts.
Emotional Connection: Listening to a story in a podcast can make seniors feel a strong emotional connection to the story, providing increased pleasure and comfort.
Social Interaction: When two or more people listen to the same audiobook, they can share a common experience, leading to conversations and bonds. Seniors can even listen to the senior home care team to help build their connection.
Access to a Wide Range of Content: Audiobooks give seniors access to a wide range of topics, types of books, and writers. There are a lot of different kinds of audiobooks to choose from, including great literature, history, mysteries, self-help, and current events.
Improved Vocabulary and Language Skills: When seniors listen to well-read audiobooks, they hear the right way to say words and use intonation. This can help improve language skills and keep the conversation going well.
Format Flexibility: Seniors can easily download or stream audiobooks on devices like smartphones, tablets, and e-readers, so they can get to the material they want whenever and wherever they want.
Personalized Reading: Many audiobook platforms let listeners change the narration speed and the settings to fit their tastes. This makes for a more customized reading experience.
Better Understanding: Good audiobooks often have voice artists who bring the characters to life and make the whole story more enjoyable. This can help seniors better understand and remember the story, characters, and main ideas.
Seniors, especially those who have trouble seeing, can open up a world of literature, information, and entertainment by listening to books on tape. Audiobooks are an excellent way for them to keep reading and learning because they are easy to get to, can be used in different ways, and help the brain. The senior home care team can help seniors find the right tool to listen to audiobooks and assist when they need troubleshooting.
If you or an aging loved one are considering senior home care in Northbrook, IL, contact the caring staff at Companion Services of America today at (847) 943-3786. Our home care service area includes Northbrook, Highland Park, Deerfield, Glenview, Buffalo Grove, Evanston, Des Plaines, Skokie, Lake Forest, Wilmette and the surrounding areas.
Latest posts by Jamie Shapiro
(see all)