Personal Care At Home – Four Steps to Healing Cracked Heels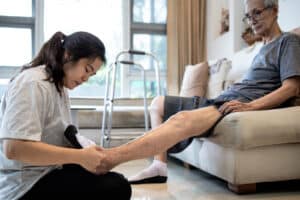 We often think of dry skin and especially dry feet as something that happens over the winter with all of the forced hot air into homes that causes the air to dry out and thus the skin to dry out. But often elderly individuals battle dry skin all year round and if your loved one has diabetes or eczema, she may deal with cracked heels during the summer and winter. And while sandal season is almost over, it's still nice to get those dry heels healed so that your loved one doesn't have to deal with the pain that can come with dry heels or the possibility of infection that may enter the cracked areas.
The good news is that your loved one can take some steps at home to help her heels feel and look better. Her personal care at home provider can be of great assistance in this area, especially if your loved one struggles with bending over and working on her feet. A personal care at home can step in as needed to help with each part of the four steps to heal those heels.
A weekly foot soaking. Your loved one should strive to soak and exfoliate her feet weekly. It can become a part of a pampering event, making it a nice, relaxing way to spend each Friday night. Your loved one should place her feet in warm (not hot) water to soak for at least 10-15 minutes to soften up the skin. If she's looking to make it more of a pampering event, add a little scented oil to the water while the feet are soaking. You can even go all out and light some candles or play some calming music. After they've been soaked, dry them off and use a pumice stone or foot file to take off any dead skin. Be gentle but firm as the pumice stone is used.
A daily moisturizing treatment. Every day (and maybe twice a day), your loved one should apply moisturizer to her feet. This can be something her personal care at home provider can help her with if bending over and applying lotion is difficult. To have the greatest success, have your loved one use a lotion that has urea or lactic acid to help exfoliate as well as hydrate.
Reevaluate footwear. If your loved one consistently deals with cracked heels, you might want to help her review her footwear. Shoes that are too tight or don't breathe can make cracked heels worse. Look for shoes with softer fabric and don't have a stiff heel counter.
Make good foot care a routine. The best way to treat cracked heels is to never have them in the first place. Even once she has healed the area, your loved one should continue to pamper and treat her feet right. Using the first three steps regularly will keep her feet in great shape.
If you or an aging loved one are considering personal care at home in Evanston, IL, contact the caring staff at Companion Services of America today at (847) 943-3786. Our home care service area includes Northbrook, Highland Park, Deerfield, Glenview, Buffalo Grove, Evanston, Des Plaines, Skokie, Lake Forest, Wilmette and the surrounding areas.
Latest posts by Jamie Shapiro
(see all)