How Home Care Helps Seniors With Vision Loss Live Independently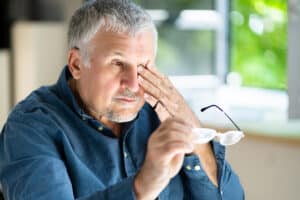 It's very common for seniors to experience changes in their vision as they get older. Sometimes seniors are just experiencing normal age-related changes in vision. But some seniors experience significant changes to their vision because of conditions like diabetes, glaucoma, or having cataracts.
Vision changes can make it more difficult for seniors to continue to age in place. But seniors who want to continue living in their familiar homes can get the help and support they need to continue living independently from home care. With home care seniors will have someone in the house to help with household chores, cooking, and other tasks. Some of the ways that having home care can help senior continue to safely age in place are:
Personalized Care Plans That Change
Home care services understand that one size does not fit all, especially when it comes to assisting seniors with vision loss. They create personalized care plans that cater to the specific needs and preferences of each individual. Caregivers assess the extent of vision loss and tailor their support accordingly, ensuring that seniors receive the assistance they require, from medication management to household tasks. The care that your senior parent receives will change as their needs change.
Mobility and Orientation Assistance
Seniors with vision loss often struggle with mobility and orientation. Home care providers offer guidance and support in navigating their homes safely. They help seniors with tasks like walking, climbing stairs, and using mobility aids, making sure they can move around confidently without the fear of falling or getting disoriented. Preventing falls at home is a primary goal of home care.
Medication Management
Vision loss can make it challenging to manage medications, leading to potential health risks. Home care services take charge of medication management, ensuring seniors take the right medications at the correct times. They can also read medication labels and provide information about potential side effects, helping seniors stay healthy. If low vision is making it difficult for your senior parent to take their medications the right way, home care is a great way to prevent medication mistakes.
Meal Preparation
Maintaining a balanced diet is essential for overall health, but vision loss can make meal preparation a daunting task. Home care providers assist in planning nutritious meals, grocery shopping, and cooking. This ensures that seniors have access to delicious and healthy food, reducing the risk of malnutrition.
Household Assistance
Keeping the home environment clean and organized is vital for safety. Home care services offer support with housekeeping tasks like cleaning, laundry, and decluttering. By creating an organized living space, seniors can move around with ease and avoid accidents.
Transportation and Companionship
Home care providers often offer transportation services, taking seniors to medical appointments, grocery shopping, and social outings. Having a companion who can assist with transportation and provide emotional support is invaluable for seniors with vision loss, reducing isolation and enhancing their quality of life.
Assistive Technology
Advancements in technology have created various tools and devices that can help seniors with vision loss. Home care providers can assist in identifying and utilizing these technologies, such as screen readers, magnification software, and voice-activated devices, to improve seniors' independence.
Emotional and Social Support
Vision loss can be emotionally challenging, leading to feelings of isolation and depression. Home care providers offer emotional support, companionship, and encouragement, which are essential for maintaining mental well-being. They also engage seniors in social activities and hobbies to keep them connected to the community.
If you or an aging loved one are considering home care in Northbrook, IL, contact the caring staff at Companion Services of America today at (847) 943-3786. Our home care service area includes Northbrook, Highland Park, Deerfield, Glenview, Buffalo Grove, Evanston, Des Plaines, Skokie, Lake Forest, Wilmette and the surrounding areas.
Source 1 / Source 2 / Source 3
Latest posts by Jamie Shapiro
(see all)