Home Care Assistance and Senior Travel Clubs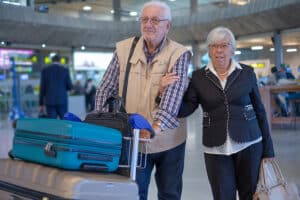 Travel clubs are a great way for seniors that want to travel to do so with other seniors. They're also a fun way for seniors to make friends and socialize while enjoying seeing new places. But, whenever seniors travel they need to make sure that they are aware of their unique challenges and plan accordingly. Seniors that want to do more traveling and are considering joining a senior travel club should consider these things before deciding to join a travel club:
What Type of Travel Club Is The Best Fit?
There are various types of travel clubs catering to different interests and preferences. Some clubs focus on specific travel styles, such as adventure, cultural, or luxury travel, while others might specialize in group tours, cruises, or solo travel.
Membership Fees and Costs
Many travel clubs require an upfront membership fee or annual dues. Seniors should carefully review the membership costs and what is included in the fee, such as access to trips, discounts, and other perks. Seniors who have home care assistance and plan on traveling with a care provider should find out what the extra costs are.
What Are The Benefits Offered?
Travel clubs often offer members benefits such as discounted travel packages, exclusive access to tours and activities, and personalized travel planning assistance. Seniors should find out the value of these benefits in relation to their travel preferences and budget. Seniors with home care assistance can ask their care provider to help them make lists of the benefits and perks of each club.
Group Dynamics
Travel clubs often organize group trips, which can be an excellent opportunity for seniors to meet new people and make friends. Seniors should consider the group size, age range, and compatibility with fellow travelers when choosing a travel club. Many seniors enjoy traveling in small groups but may find large groups too overwhelming.
Trip Itineraries
Seniors should always check the itineraries of any planned trips to make sure they are physically capable of doing the planned activities. Hikes up mountains, lots of walking in hot cities, and other activities may not be great for some seniors.
Accommodations and Accessibility
Check whether the travel club takes into consideration the accessibility needs of seniors. Ensure that accommodations and activities are suitable for any mobility or health concerns.
Cancellation Policies
Seniors should be aware of the travel club's cancellation and refund policies. Unexpected circumstances can arise, and having a clear understanding of the policies can help avoid potential disappointments.
Reputation and Reviews
Research the travel club's reputation by reading reviews and testimonials from other members. This can provide insights into the club's reliability, quality of trips, and overall member satisfaction.
How Much Customization Is Allowed?
Consider whether the travel club allows members to customize their travel experiences. Seniors may have specific preferences or requirements that need to be accommodated.
Travel Insurance
It's advisable for seniors to have travel insurance when participating in trips organized by travel clubs. Travel insurance can provide coverage for unexpected events, such as trip cancellations, medical emergencies, or lost luggage.
Trial or Sample Trips
Some travel clubs offer trial trips or sample itineraries for potential members. Participating in these can give seniors a firsthand experience of the club's offerings before committing to full membership.
If you or an aging loved one are considering home care assistance in Glenview, IL, contact the caring staff at Companion Services of America today at (847) 943-3786. Our home care service area includes Northbrook, Highland Park, Deerfield, Glenview, Buffalo Grove, Evanston, Des Plaines, Skokie, Lake Forest, Wilmette and the surrounding areas.
Latest posts by Jamie Shapiro
(see all)