NATIONAL HOME CARE AND HOSPICE MONTH
During The month of November, the Home care and Hospice communities honor the millions of home care aides, nurses, social workers and therapists who make a significant difference in the lives of their patients and families. These remarkable individuals play a central role in our healthcare system and in the homes they serve. In addition, Home Care Aid Week takes place the second week of November. Home care provides high quality, compassionate care to people who want to stay in their homes surrounded by family and friends. Ninety percent of Americans want to age in place, and home care is the preferred method of care among the disabled, elderly, and chronically ill. These devoted caregivers enrich the lives of their patients by providing support, companionship and compassion.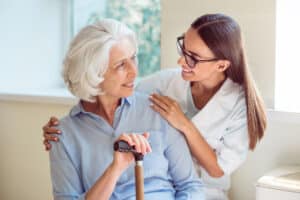 Jamie Shapiro, founder of Companion Services of America, LLC received a Masters Degree in Clinical Social Work from the University of Chicago. Jamie started her career in psychiatric social work at Northwestern University Institute of Psychiatry. Later, she went on to become the Director of Social Services at Belmont Community Hospital where she developed discharge planning procedures to assist staff in identifying potential patients requiring intervention.
Latest posts by Jamie Shapiro (see all)